Good Friday Walk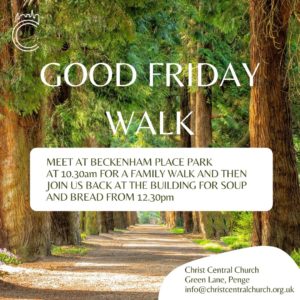 Join us this Good Friday, 15th April for our family walk around Beckenham Place Park.
We will meet here Christ Central Church Meeting Spot at 10.30am and then walk together around the park for about an hour before heading back to our church building for soup and bread rolls.  There will also be some sweet treats for our children.
How to get to Beckenham Place Park
Parking at Beckenham Place Park (consider parking in Foxgrove Road as parking can be very busy at BPP)
Beckenham Place Park Homepage
Children are welcome to bring bikes on the walk. Please feel free to invite family, friends & neighbours. You're also welcome to join us for all or part of the day.